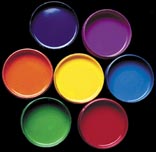 A Premier Supplier of High Quality Graphic Inks
Graphic Ink Systems is an independently owned company with over 100 years of combined experience.
We are a full-service printing ink manufacturer located in Bristol, Wisconsin. Graphic Ink Systems has had the privilege of servicing the printing industry with our unique line of products that meet and exceed industry standards.
We offer a full line of high quality printing inks.
Our complete line of printing ink includes Sheet-Fed, Soyforms, Laser Compatible, No Heat and Heat Set Web. All product lines can be specially formulated to your specific needs at no additional cost.
To insure that your pressroom runs efficiently, with no downtime, we offer 24 hour service and full technical support.
Our Philosophy
We insist on building strong relationships with our customers, and believe that constant communication is the key to everyone's success.
We make sure our sales representatives get what they need to excel. This includes easy access to decision makers, unsurpassed support and competitive pricing, along with state-of-the-art technology and dependable delivery. With these advantages it's no surprise that so many companies have switched to Graphic Ink Systems.
Why Choose Graphic Ink Systems?
Our company relies on a combination of high quality products and outstanding customer service to better serve you, and more importantly, help make a positive impact on your bottom line.
Our key personnel are on call 24 hours a day, so you know we are always there to help.